Custom commercial sinks can add utility and distinction to any business. Whether the sink will be in a customer restroom or in the kitchen of a cafe, CustomCreteWerks can design a concrete countertop that is entirely unique to your establishment.
Choosing a Design That Matches Your Business
At CustomCreteWerks, we will work with you to determine what style and color sink will work best to emphasize your business's unique style. We want your custom sink to match your branding while reflecting either current or enduring trends.
We offer a variety of shapes and styles, from traditional basin sinks to popular and durable concrete trough sinks. Consider both what will be the most convenient and practical for the space as well as what will be most striking and in sync with the rest of the establishment. You can choose from a wide range of concrete colors and visual designs that allow you to create any look, from rustic vineyard-inspired to modern industrial. The sink type, style, and design will leave you with a completely unique and distinguished sink.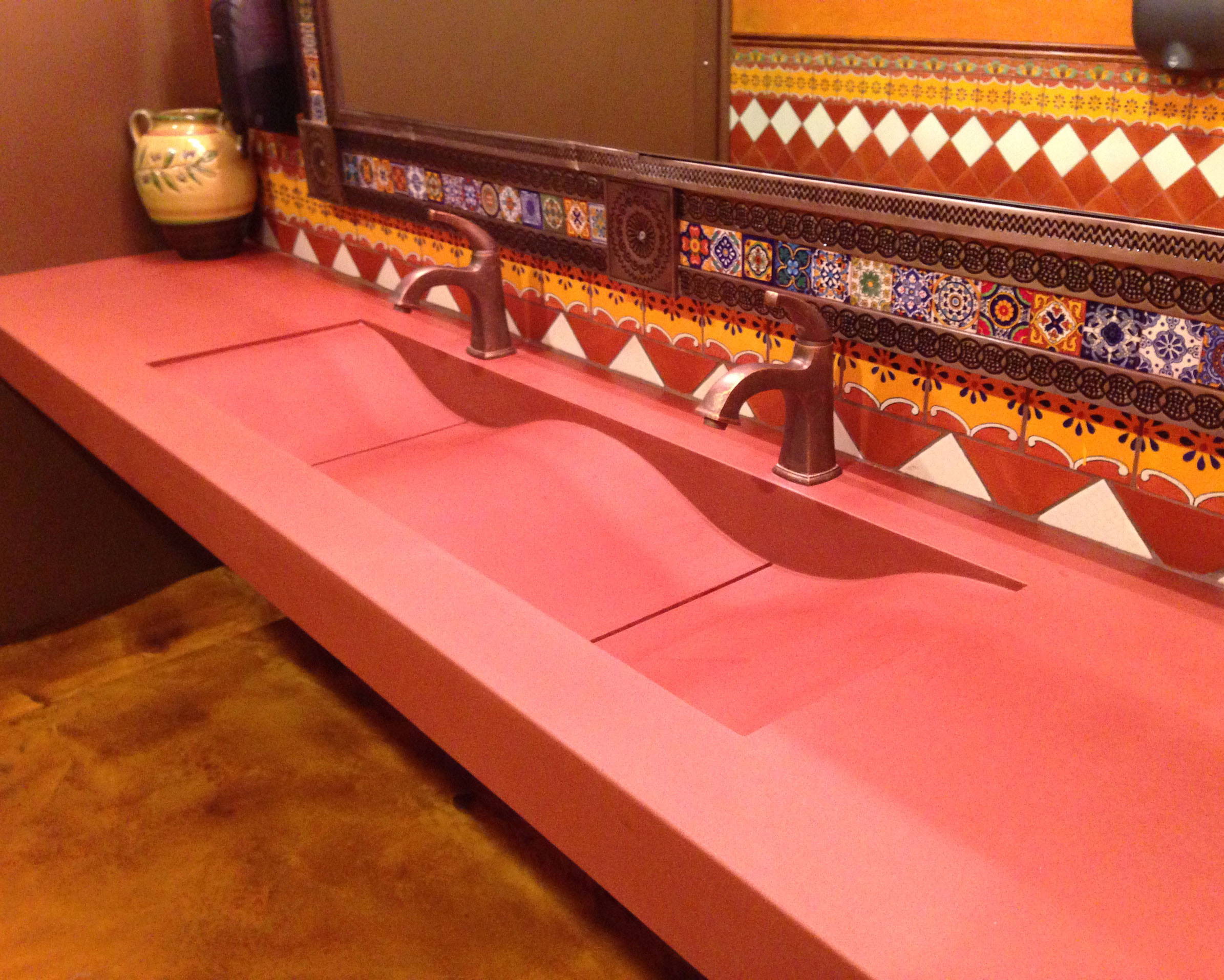 Custom Concrete Commercial Sinks for Restrooms
One of the most common places to add or update a sink in a commercial space is the restroom. When deciding how to design or update that part of your business, consider that restroom design and amenities can have quite an impact on how customers perceive an establishment overall. The restroom is a space you can use to make your customers more comfortable and to distinguish your business from competitors. One way to do that is with a beautiful and unique custom commercial sink.
Our concrete sinks are built to last and stand out! Concrete offers a long-lasting and durable solution that is flexible enough for you to express any bathroom style you wish. Additionally, we can even use concrete to build out the counters around the sink, giving a commercial restroom a unified and clean look.
What Sets Our Concrete Apart
Concrete is always a good choice. It is one of the most durable and long-lasting materials for sink construction, while also providing various options for customization and elegance. And when you choose CustomCreteWerks for your commercial concrete projects, you are choosing the best concrete there is.
We use two proprietary concrete processes that produce stain-proof, heat-resistant, and eco-friendly concrete that will last for years. This high endurance concrete means that your commercial sink will require minimal cleaning and maintenance in comparison to other sink material options. Additionally, we offer a 5-year warranty on all indoor products if the unexpected does happen.
Contact CustomCreteWerks for Custom Commercial Sinks
When you choose CustomCreteWerks for custom commercial sinks design and installation, we pride ourselves on providing you with something truly unique within a reasonable turnaround time. We start with an estimate of your project based on your parameters and the requirements of your business setting. Then, we move on to production and installation. We will keep in touch with you throughout the process and ensure you are happy with what you get! Contact us today for an estimate on your custom commercial sink.