Concrete Kitchen Countertops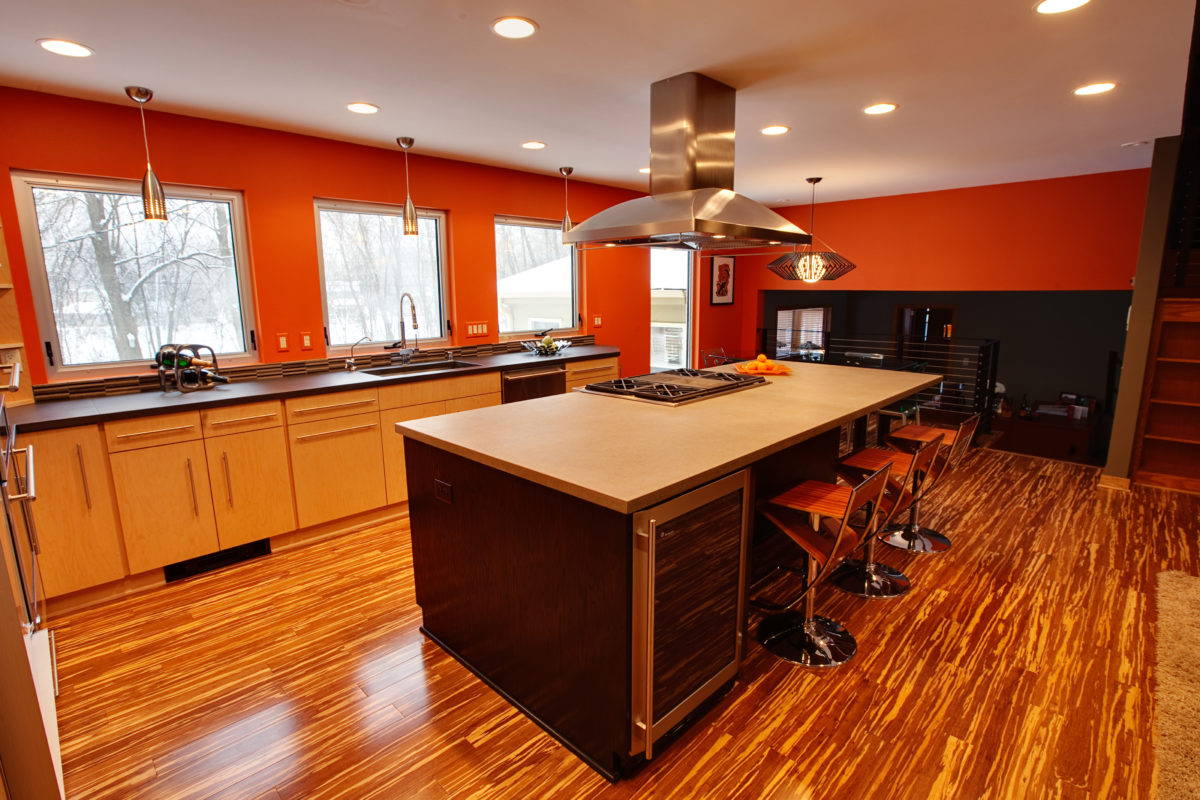 CustomCreteWerks offers concrete kitchen countertop design and installation for both residences and commercial spaces. Our concrete countertops can pair beautifully with our concrete sinks for a seamless, elegant look. Additionally, there are many other reasons to choose concrete for your countertops. Concrete kitchen countertops are design-versatile, easy to maintain, and highly durable.
One of the factors that makes concrete a popular choice for kitchen countertops is its impressive design versatility. Unlike materials like granite or marble, concrete is very adaptable in terms of color and visual texture options.
CustomCreteWerks has taken full advantage of that versatility to offer an array of colored concrete and designs to choose from. Our colors range from rustic reds to titanium-like grays, suiting a variety of environments and style choices. You can either warm up a space or cool it down to enhance a specific mood. These options can be particularly beneficial in a business setting, such as a restaurant or bar. What mood do you want to set for your customers? Your concrete countertop can help you achieve that ambiance.
As for styles, you can choose something straightforward and classic, like a flat rectangle or you might choose a wave cut to add some visual interest and pizzazz to your space. We can cut your countertops to fit corners or sit on islands as well.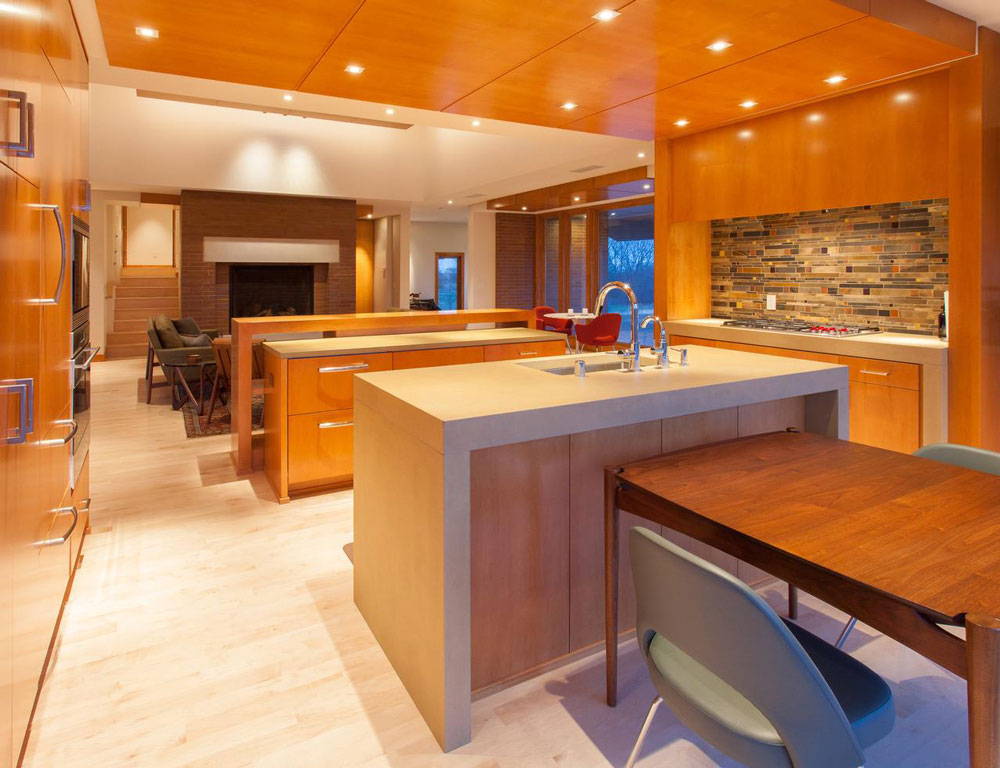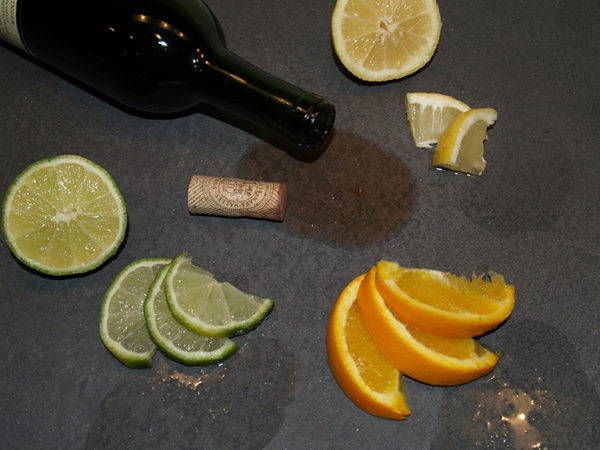 One of the most important things to know about concrete countertops is that they are exceptionally durable due to the strength and resiliency of concrete. And, when you choose CustomCreteWerks for your countertop design and installation, you are choosing the best and most durable concrete there is.
Our concrete is stain-proof, heat-resistant and eco-friendly. You will not need to worry about splatters damaging the look of your countertops, nor will you need to worry about accidentally placing hot pots and pans on their surface. These countertops can stand up to the demands of heavy traffic common in commercial kitchen spaces as well as daily use by you and your family in your home space.
An advantage that accompanies the durability of concrete sinks is minimal maintenance requirements. Indeed, the same components that make concrete durable – being stain-proof, heat-resistant and eco-friendly – contribute to easy maintenance.
For treating our concrete, we use a patented process called N-hansed™ that will keep your countertops resilient and spotless through many years of everyday use. Because this sealant is long-lasting and does not need to be reapplied, you will not need to do much to maintain your counter, other than your basic cleaning, as you would with any countertop material. Your typical spills and mishaps will be no match for these easy-to-clean concrete countertops and will be highly resistant to acquiring long-term stains, spots or cracks.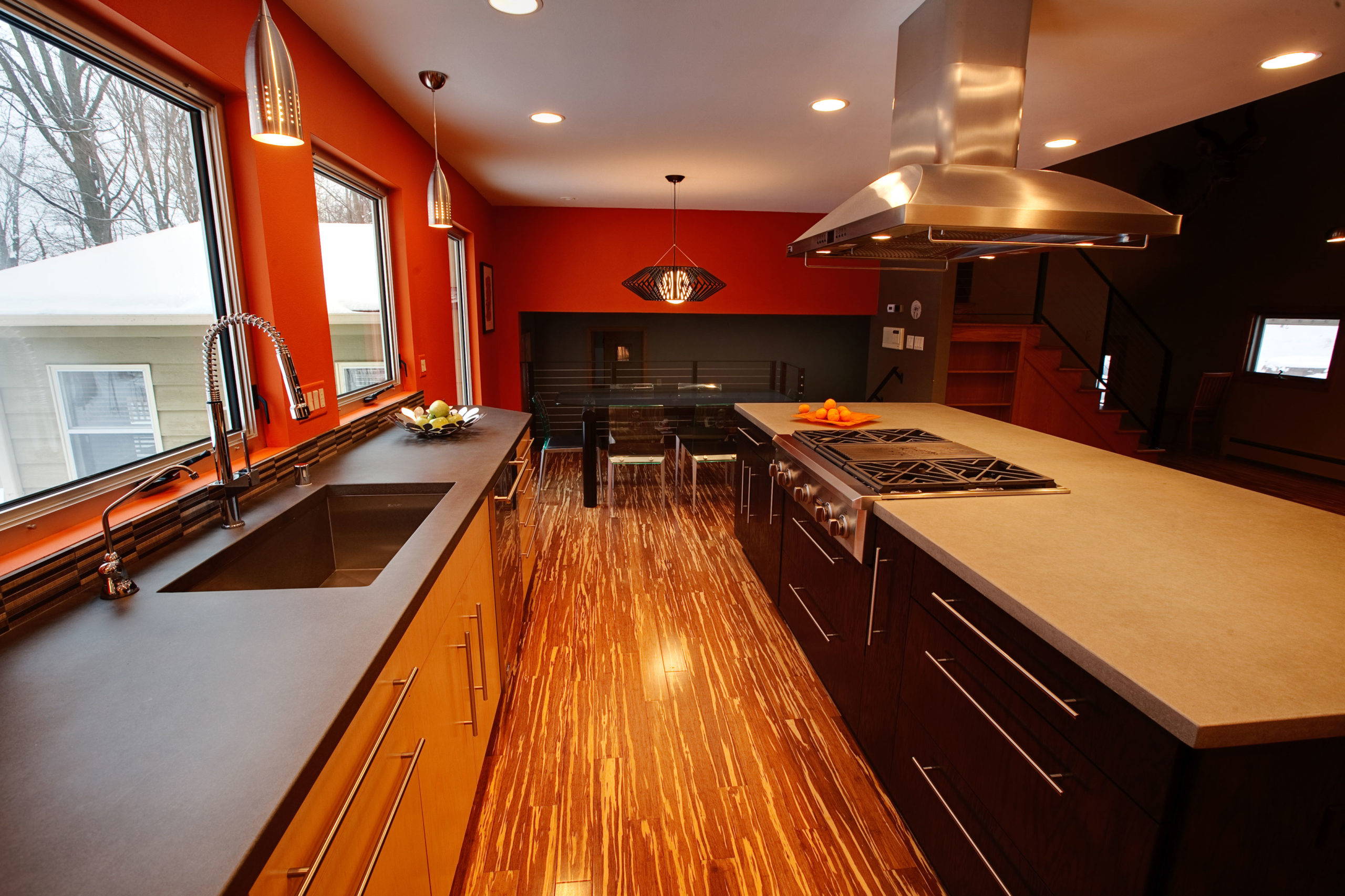 Contact CustomCreteWerks for Concrete Kitchen Countertops
Whether you are considering a concrete countertop for your business or home, CustomCreteWerks can help you determine a style and look or will work to meet your specifications and goals if you already have a design in mind. Contact us today to discuss options and get started with a free estimate on concrete kitchen countertops.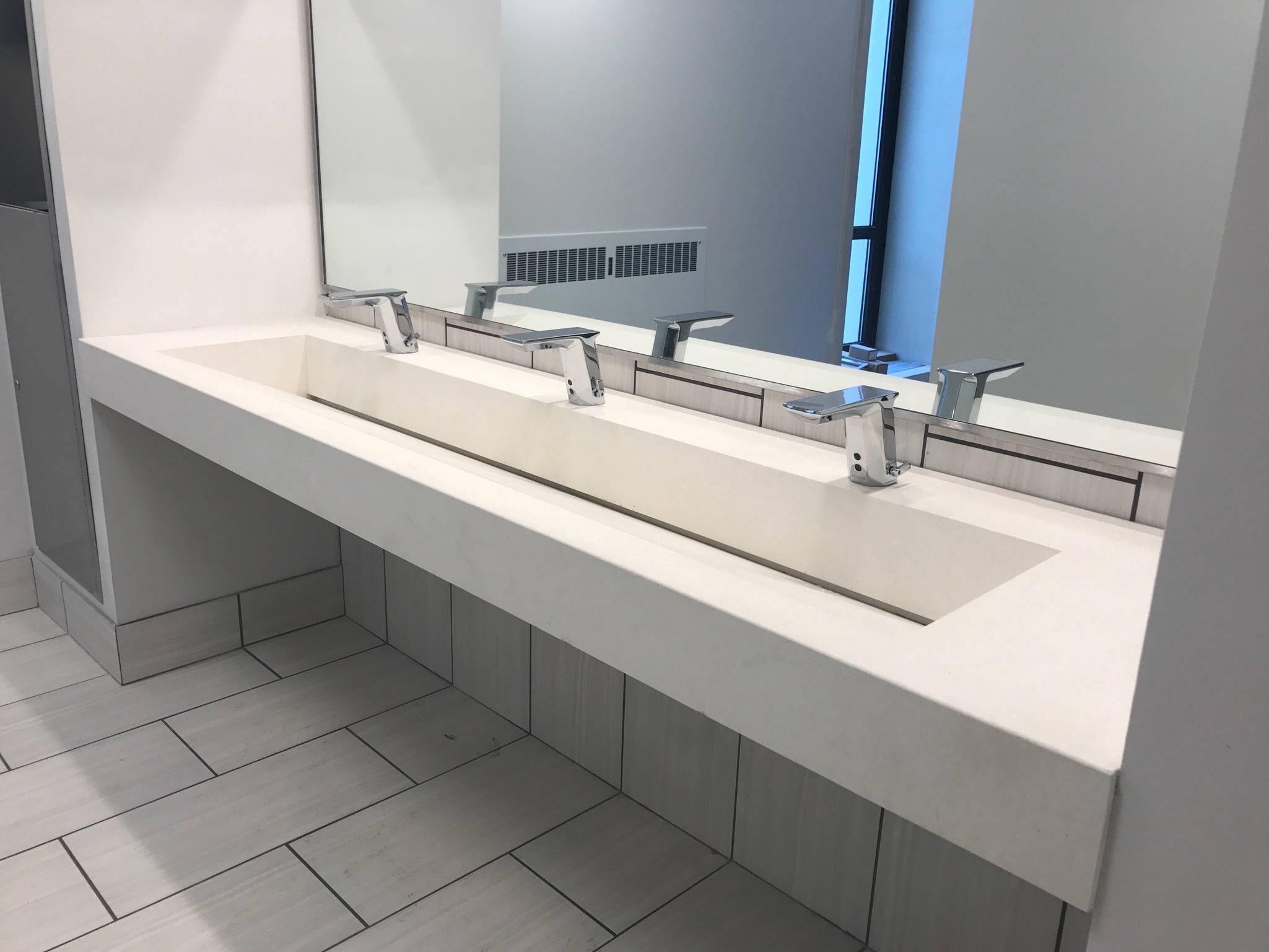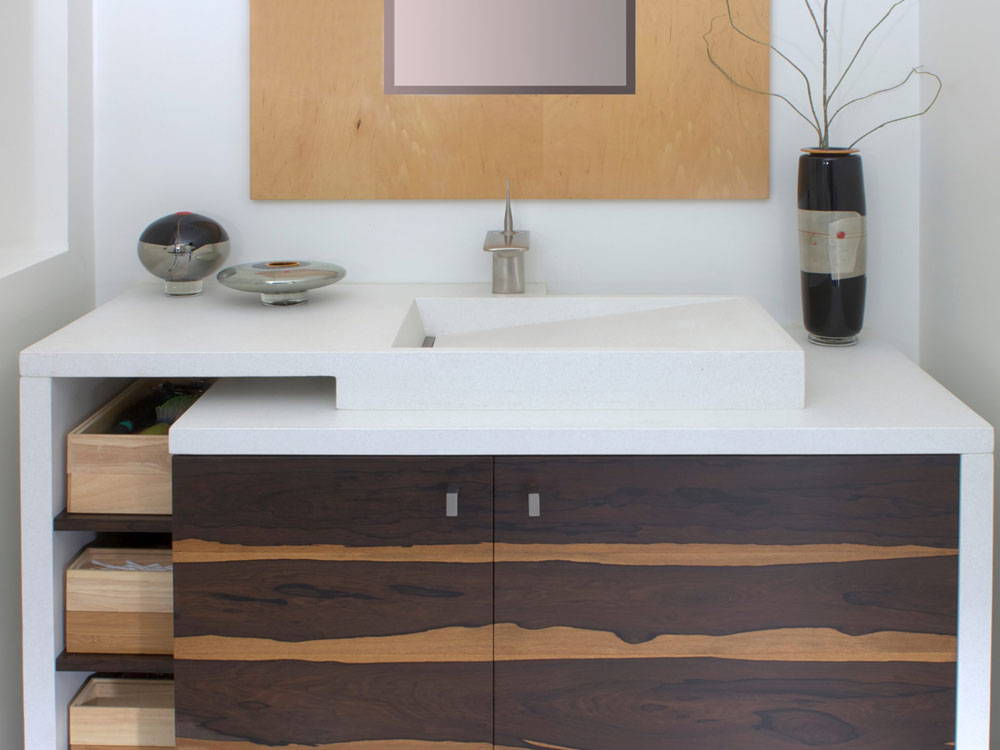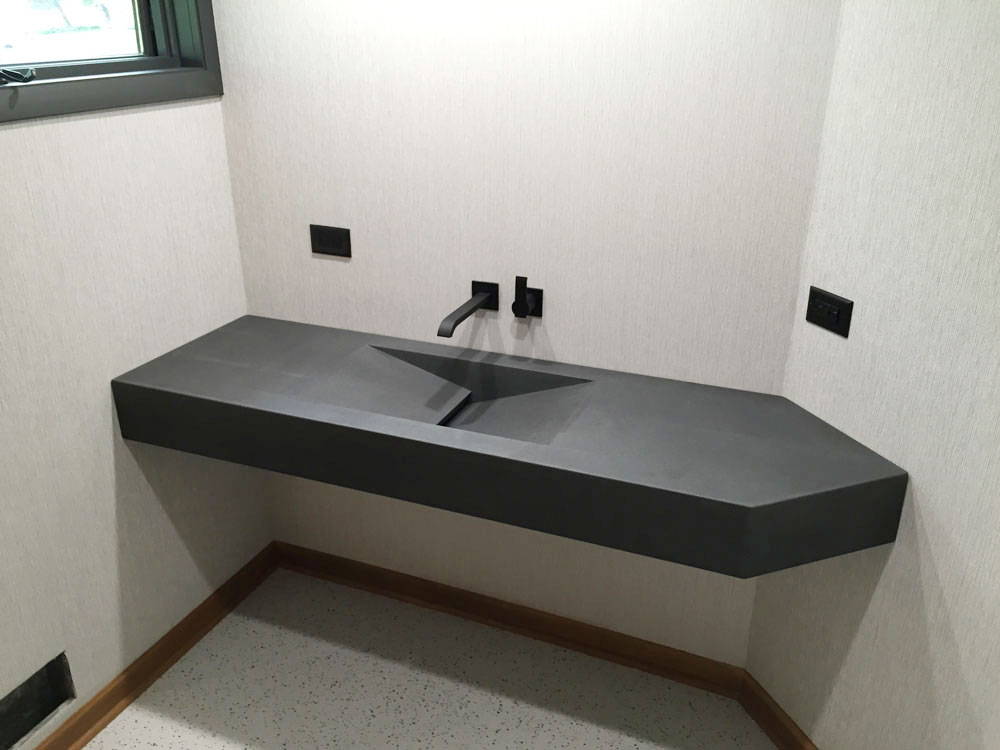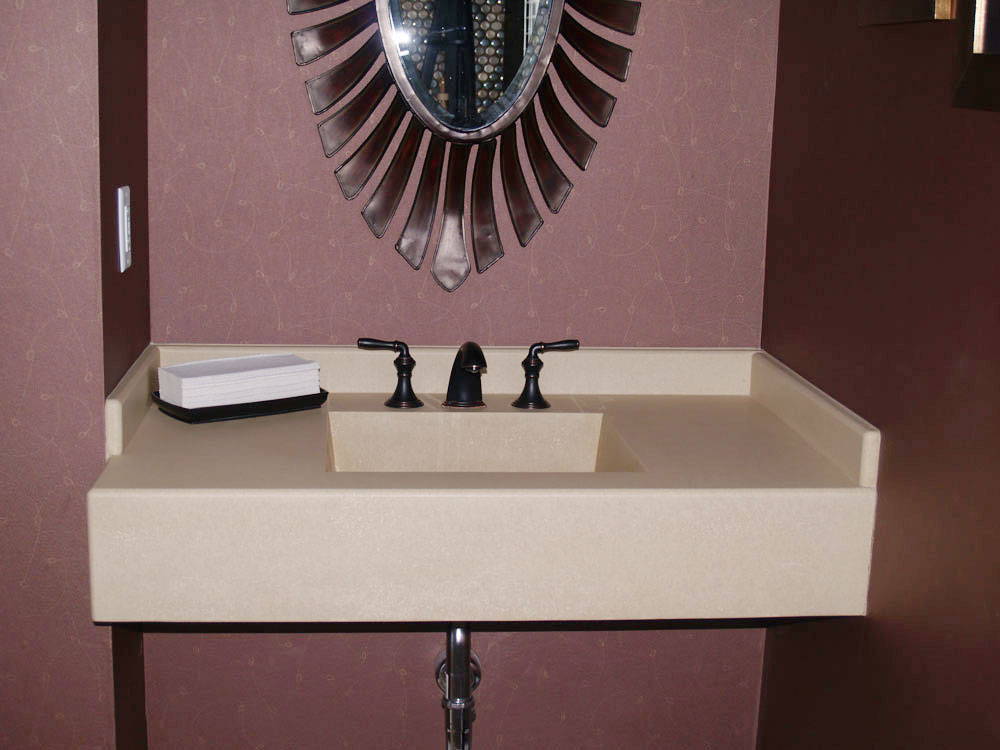 Whether you own a restaurant, retail store, or expansive commercial complex, commercial restrooms for patrons should be viewed as an opportunity to project your brand's personality. Guests want to feel comfortable in this frequently visited room, and if it has modern amenities and cutting-edge style, it will have a positive impact on their overall customer experience. Our commercial sinks and counters come molded as one or add an undermount sink to match your concrete countertop.
Concrete is a versatile design option that adds a touch of style and class to residential bathrooms of all aesthetics. Our residential sinks and counters come molded as one or add an undermount sink to match your concrete countertop. All of our bathroom concrete is customized to complement both your home's existing interior design and your everyday needs, including thickness, color, sink style, edge and face design, and even concrete backsplashes.
We offer a variety of integral sinks to choose from. These concrete sinks are cast in one piece so the sink and countertop are seamlessly connected, providing a robust and stunning result. Single sinks are appropriate for smaller spaces while double sink options work well for master baths or commercial spaces. Round, oval, square, wave, trough, or the popular ramp style sink are sure to add functionality and style to your interior space.
All of our wall hung sinks are internally handcrafted and designed. We have many different types of wall hung sinks to choose from, and each one brings its own unique tone and style to a space. We prioritize producing items that will integrate with every aesthetic. That's why each sink has a sleek structure that adds visual flair and their timeless, durable material blend in seamlessly with numerous interior styles. No matter the type of facility, we have an option that will suit your needs.